ASANA

Asana means to sit .
These rugs are created to sit on….Meditate..Breathe.
Each rug is 100% wool made from the fleece of local sheep.
The symbols on top are needle felted . Wool is a natural fiber that can have a healing effect both physically and spiritually. It is very calming, beautiful and soothing to the senses.
Each rug will vary in size and appearance due to the nature of wool and the process of felting….They are unique!! I create each rug in a space of calm, intention and love. Asanas also make beautiful wall hangings and soothing play mats for children. I will gladly work with you to customize an Asana if you don't see one you love.
Currently all mats are out of stock, but custom orders are being taken!
Contact Jennifer Boylan, or Heart Child Yoga directly to place custom requests. See some examples below.
Please place order below (using the Buy Now button) after approved cost is confirmed by either Heart Child, or Jennifer Boylan (designer).
Custom Handmade Mas
Sizes and Prices

ASANA Meditation Mats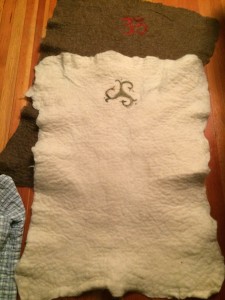 ASANA – handmade wool rugs
about 3′ long
$110 each